This post may contain affiliate links, which means we may receive a commission if you purchase through our links. Please read our full disclosure here.
This post will show you how to style a swimsuit and find the best one for your body.
Chances are that you probably think of a swimsuit as something that you wear to go swimming in, and that's it. Maybe you wear a cute cover-up over it while walking around the beach/pool area. Still, unless you live in a warm area where beach-going is a daily activity (lucky!), you probably don't consider your swimsuit a clothing item that can be incorporated into your summer look.
RELATED POST: These Are the Hottest Swimwear Trends This Summer
But, with the huge variety of swimsuit styles that closely mirror what's going on in the rest of the fashion world, perhaps we should start thinking of swimwear as something that can be worn beyond the beach (or pool).
Of course, the swimwear you choose will depend on what suit feels best on you, which is why we've tailored this advice to body types. First, we'll show you how to select a great bathing suit for your body type. (Feel free to skip this info if you already have your favorite!) Then, we'll show you how to style your bathing suit into a super cute outfit.
Read on for all of our favorite swimsuit styling tips!
Choosing the Right Swimsuit for Your Body Type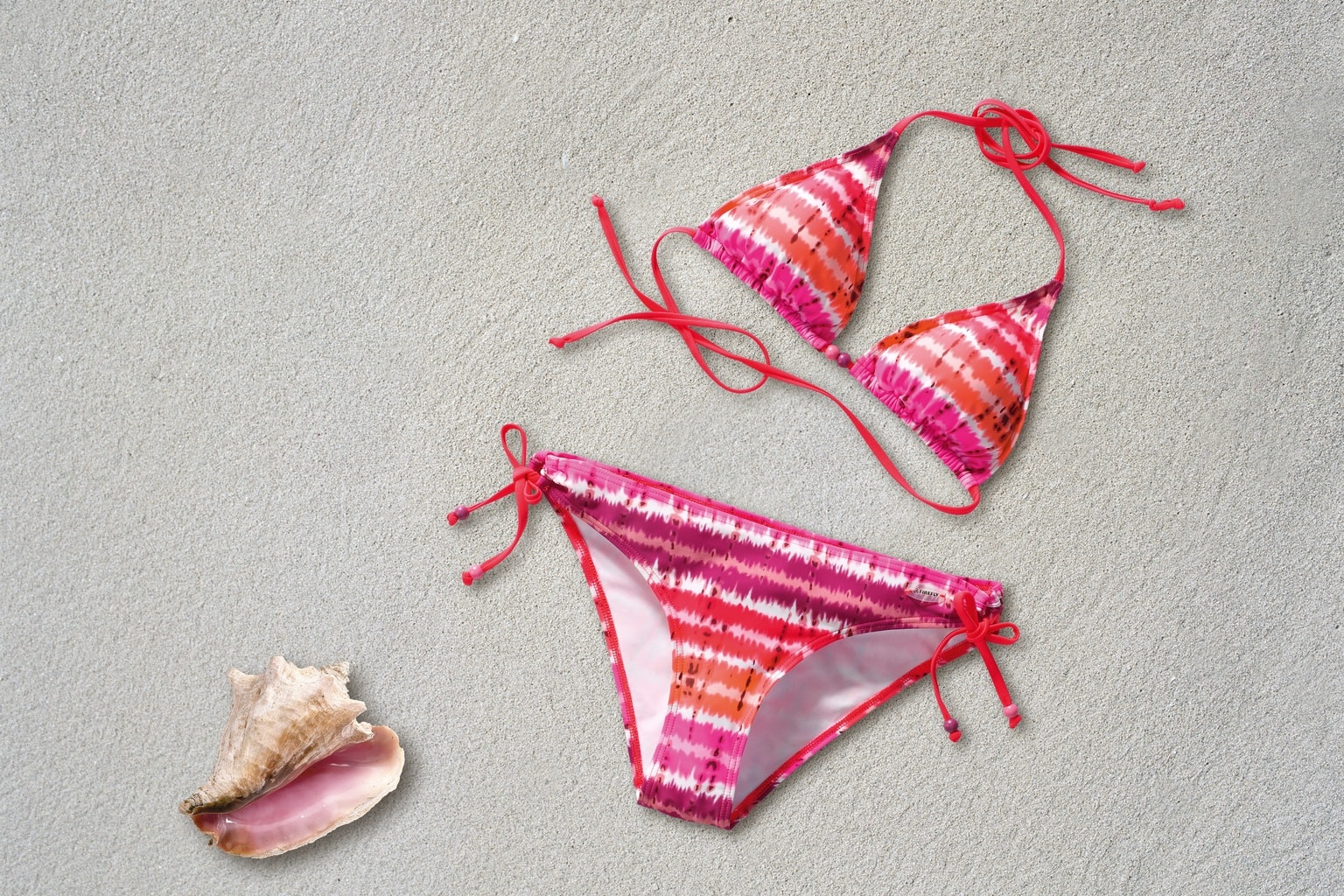 Swimsuit season is officially upon us, and I can hear the beach calling my name! However, as exciting as frolicking in the waves and tanning poolside are, swimsuit season also means swimsuit shopping, which is kind of the worst. There's nothing more frustrating than cluelessly trying on countless suits and searching for the perfect one.
In this post, I've put together some advice for finding figure-flattering swimsuits that I truly believe will make every body type look incredible, along with swimwear that will have you dreaming of jumping into crystal blue waters.
Before we begin…
I want to point out that there are countless body types out there, and every kind is beautiful. I hope that you can interpret my advice on swimsuit shopping for the basic body types below and mix and match it to fit your particular body type.
For example, I have a petite and athletic build with a larger bust, so I would try to find a suit that complements all of those features. Best of luck!
(For even more swimwear advice and inspiration, be sure to check out our past posts on swimsuit shopping for body shapes.)
Petite
If you're short (like me!), the key to rocking a swimsuit is finding one that will emphasize and elongate your legs and torso. Higher-cut bottoms make your legs look longerand solid colors make your body appear taller.
Halter tops are also ideal because they won't cut off your line. Great things come in small (AKA petite) packages!
Athletic
If you've put in the sweat to acquire lean muscles, you must show them off! Highlight your athletic build in a tankini, which will shorten the upper body and create an hourglass shape at your waist.
Thin straps or no straps draw attention to your toned armswhile an Intricate back design will showcase your muscular back.
curvy
If you've got curves, then you should absolutely be flaunting them! I recommend trying high-waisted bottoms that flatter and emphasize your waist.
One-piece swimsuits are in season and are a great option if you're looking for a little more coverage. Plus, they create a seamless line from head to toe.
tall
If you're tall, then first of all, would you mind lending a little height to us short girls? kidding. Mostly. Seriously though, if you're tall, then, by all means, work your long legs and torso.
You can be much more versatile with the cut of swimsuit bottoms since your legs are already miles long, and you can balance them out with a bustier-style swimsuit top.
One-pieces will also enhance your tall frame. Just be sure to shop at stores offering longer one-pieces for tall women: Aerie and J. Crew are our favorite brands for this!
Big Bust
If you have a large bust, finding a swimsuit that offers good support is the most important thing. Opt for a swimsuit with molded cups or a balcony design that provides adequate coverage and lift but allows you to flaunt what your momma gave you.
Small Bust
If you have a smaller chest, enhance it with a fringed or ruffled bikini top. alternatively, rock what you have with pride and go for a super skimpy classic triangle top — you can pull these off better than anyone since you don't need tons of support.
How to Wear a Two-Piece Swimsuit
Swimsuit Outfits: Preppy and Pretty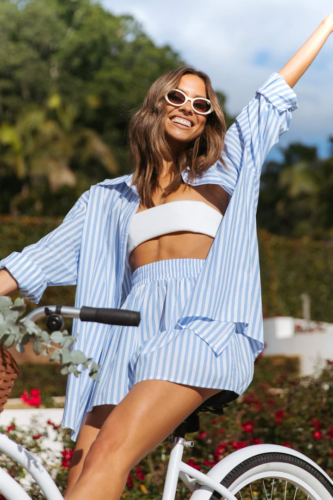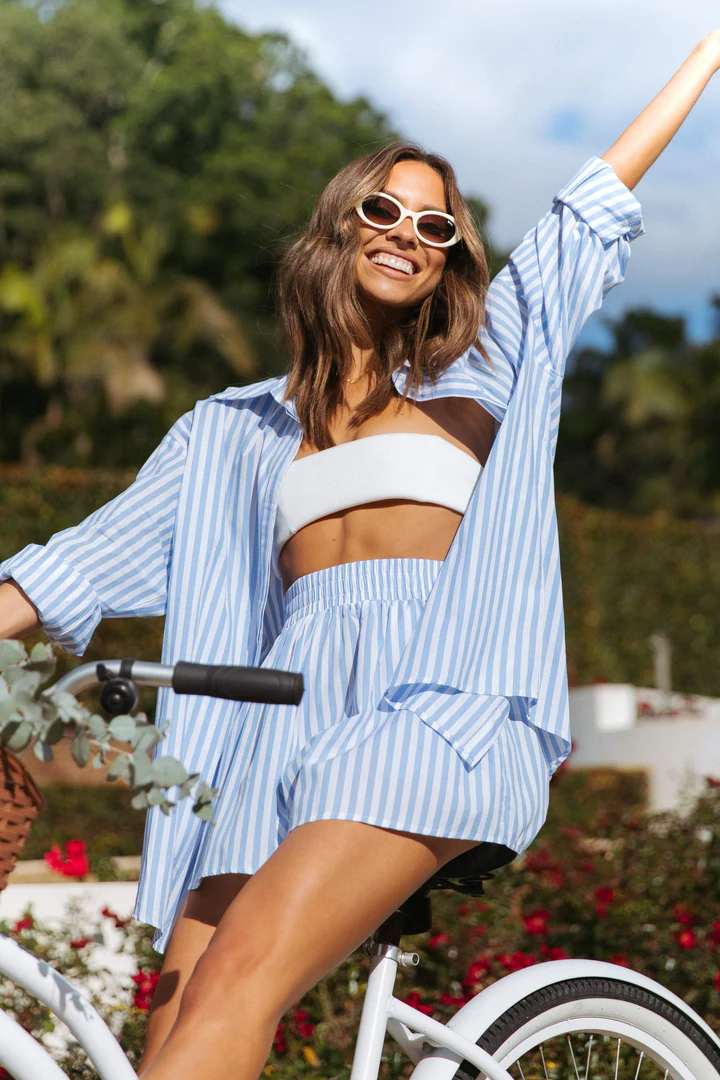 One of my favorite ways to style a two-piece swimsuit is by pairing my favorite bikini with a matching button-down shirt and shorts set.
This is my go-to in the summer because these pieces are easy to throw on while being super light and comfortable to wear. For styling, consider your bikini top a stand-in for a crop top and style accordingly: I like to wear sneakers or sandals with my bikinis and two-piece sets.
Swimsuit Outfit: Simple and Sweet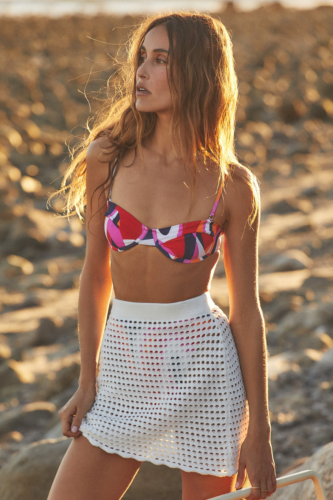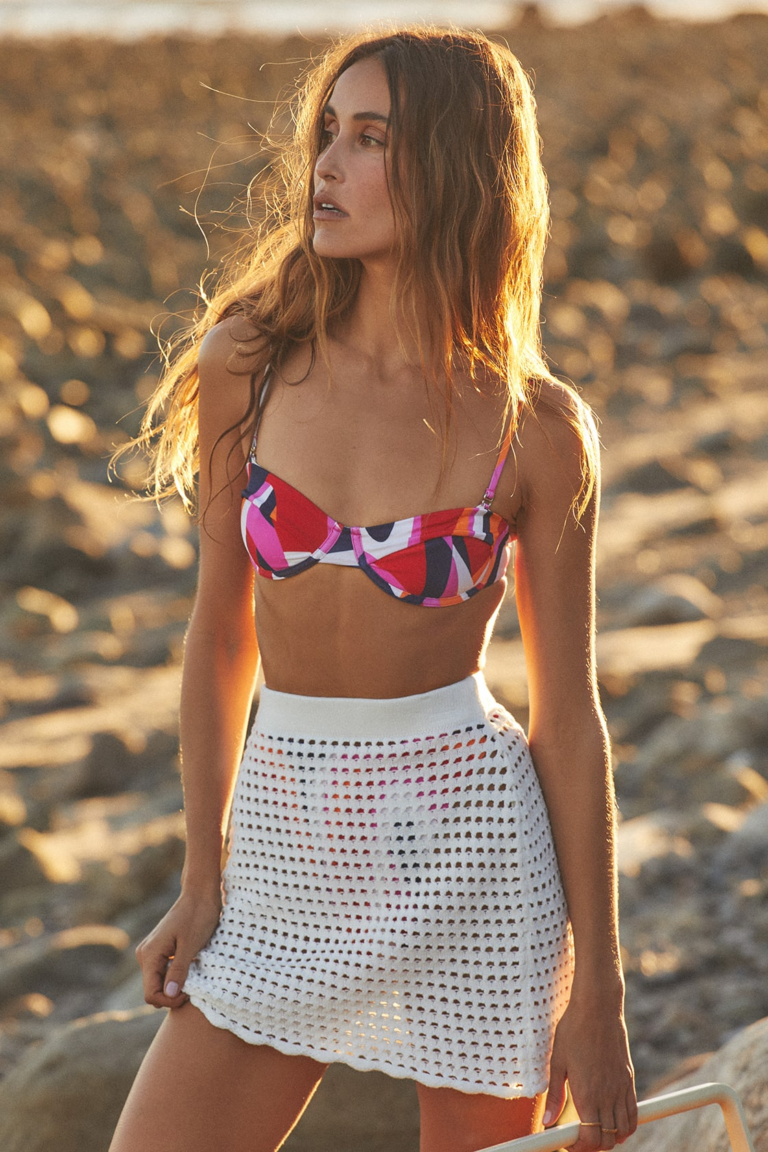 If you just want a cute piece to throw on over your favorite bikini, consider investing in a crochet mini skirt like this one from Lulus.
I love this piece because it's such an easy go-to for the summer. Just throw it on over your bikini (this would also work with a one-piece bathing suit), and you have the perfect amount of coverage for shopping or hitting up the snack bar.
Swimsuit Outfit: Edgy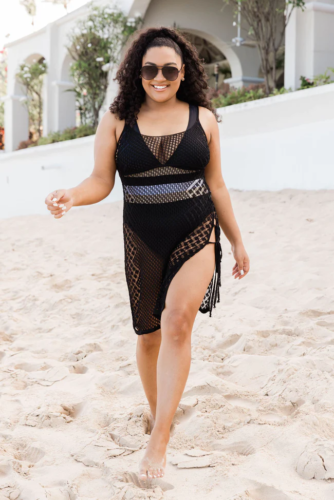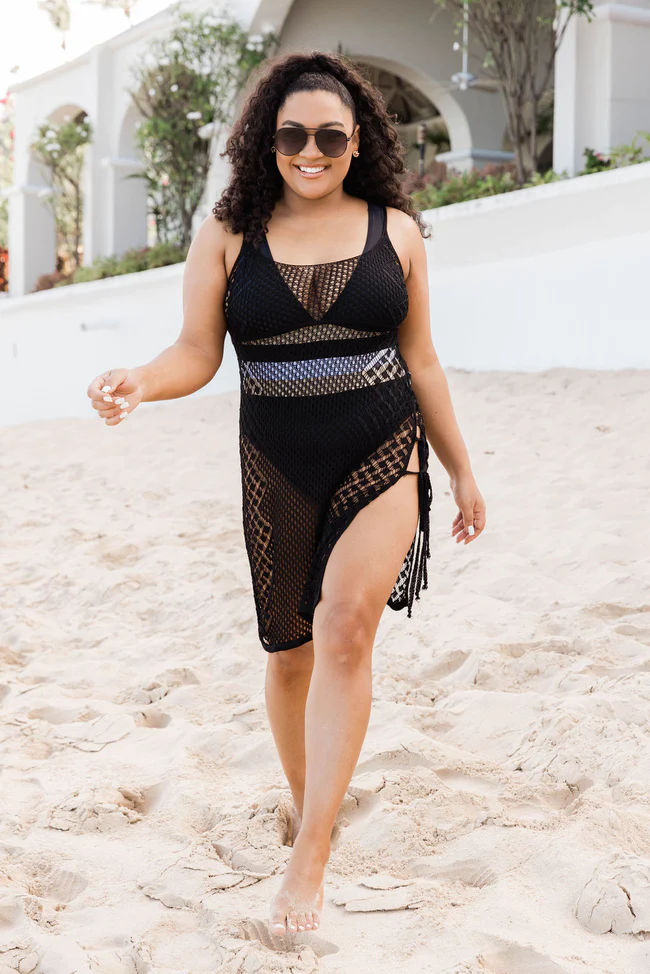 If you love your black bikinis, this is it the perfect edgy outfit for beach days. Pair your bathing suit with a black crochet midi dress for the perfect mix of cool and care free.
To dress up this look even more, add black studded sandals and dark sunglasses. Finish with your favorite gold jewelry for a look that's perfect for a beach party.
Swimsuit Outfit: Classic Cute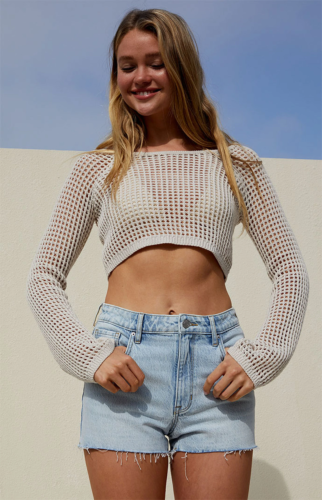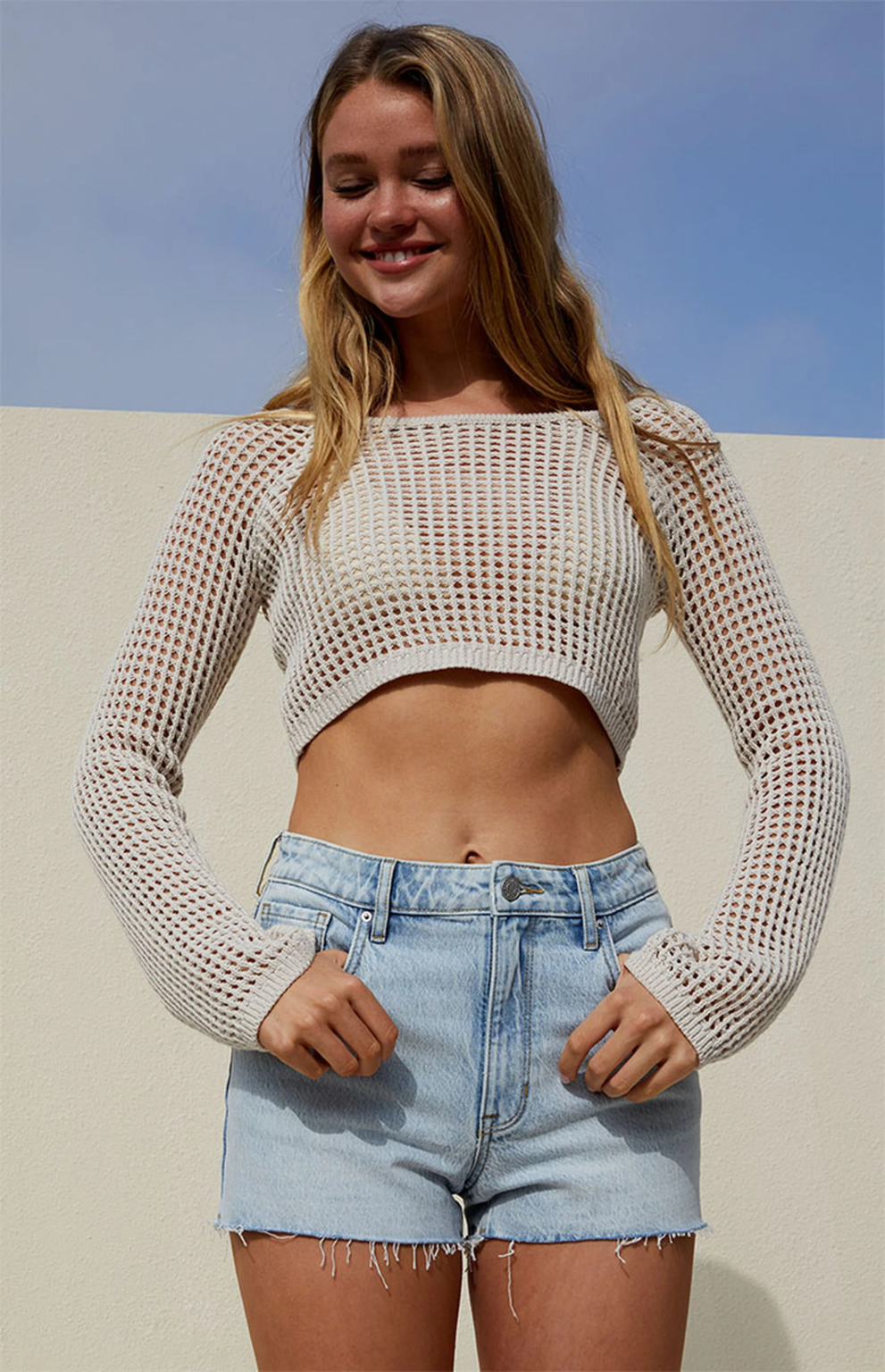 One of the most classic ways to style a swimsuit is by pairing it with denim cutoffs. Take the look up a notch by wearing your bikini with high-waisted cutoffs and adding a cute crochet sweater over the top.
Crochet is a huge trend this season, and it's one of our favorite looks for the beach this summer. Add some cool platform sandals, and you have a trendy take on one of the most classic beach outfits out there.
How to Wear a One-Piece Swimsuit
Swimsuit Outfits: Beachy and Feminine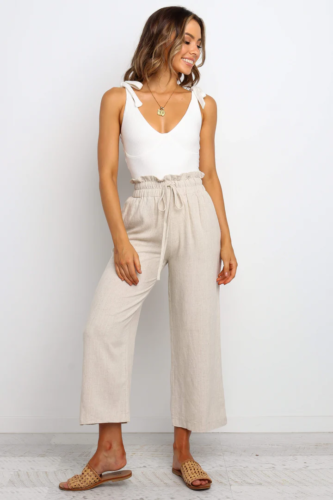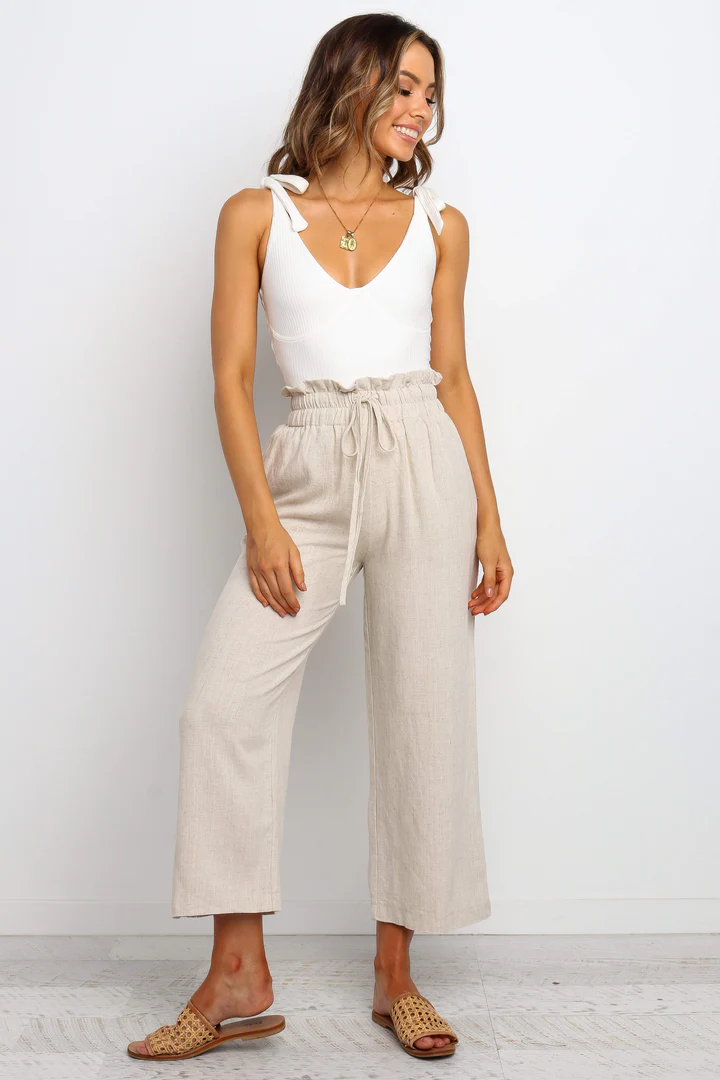 If you have a feminine one-piece bathing suit, like this white one with ties on the shoulders, it will look so fresh and pretty paired with breezy linen pants and sandals.
I love the look of a white swimsuit paired with beige linen pants for an effortless, almost bohemian feel. The neutral sandals and simple necklace finish off this look, which would be perfect for lunch on the boardwalk.
Swimsuit Outfit: Minimal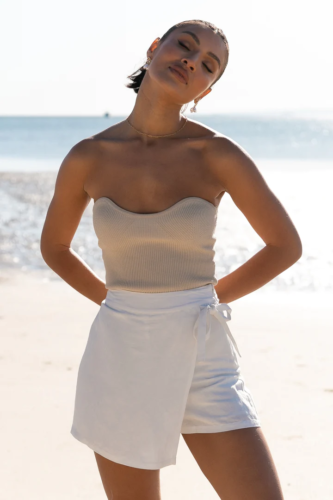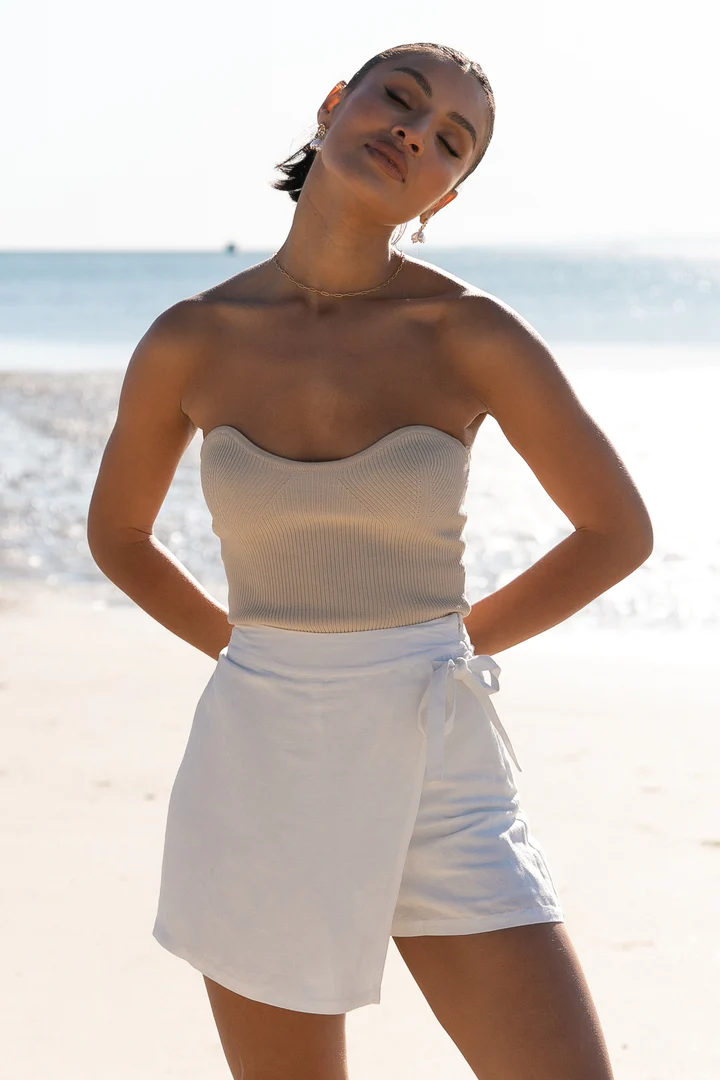 Here's a simple and stunning swimsuit outfit with a strapless one-piece bathing suit and a simple wrap skort.
If you have a strapless bathing suit, this is the perfect look for you! You can add any skirt you own, but I love the idea of ​​a skort for extra coverage and comfort. Just keep your corset neutral or in the same color family as your bathing suit. You truly can't go wrong with this look.
Swimsuit Outfit: Comfy and Casual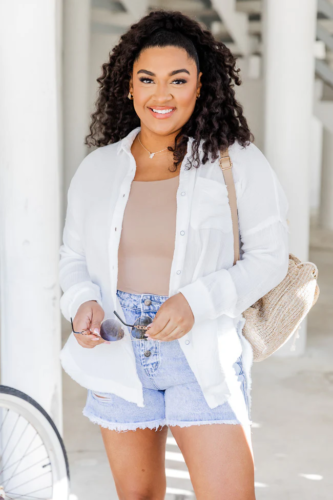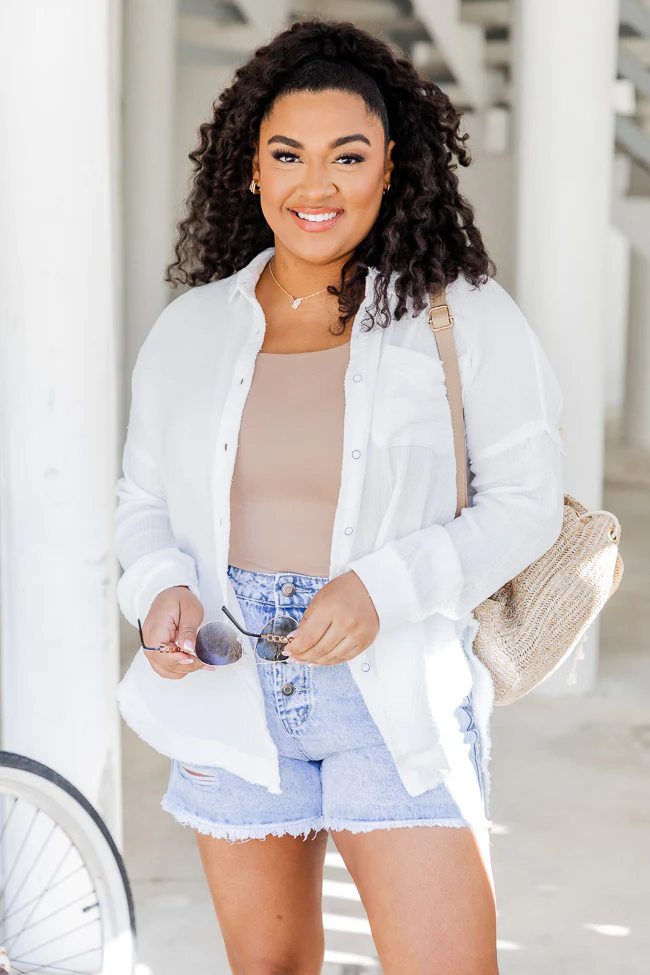 A one-piece bathing suit makes a great stand-in for a bodysuit in any outfit. Case in point: This cute swimsuit outfit with denim shorts, a one-piece, and an oversized linen button-down.
While this outfit is neutral in color, a white button-down and jean shorts will go with any color one-piece! These are great basics to have for the summer months, so definitely invest if you don't already have them in your closet.
Swimsuit Outfits: Sleek and Classic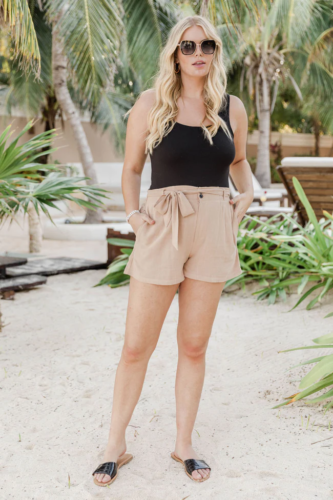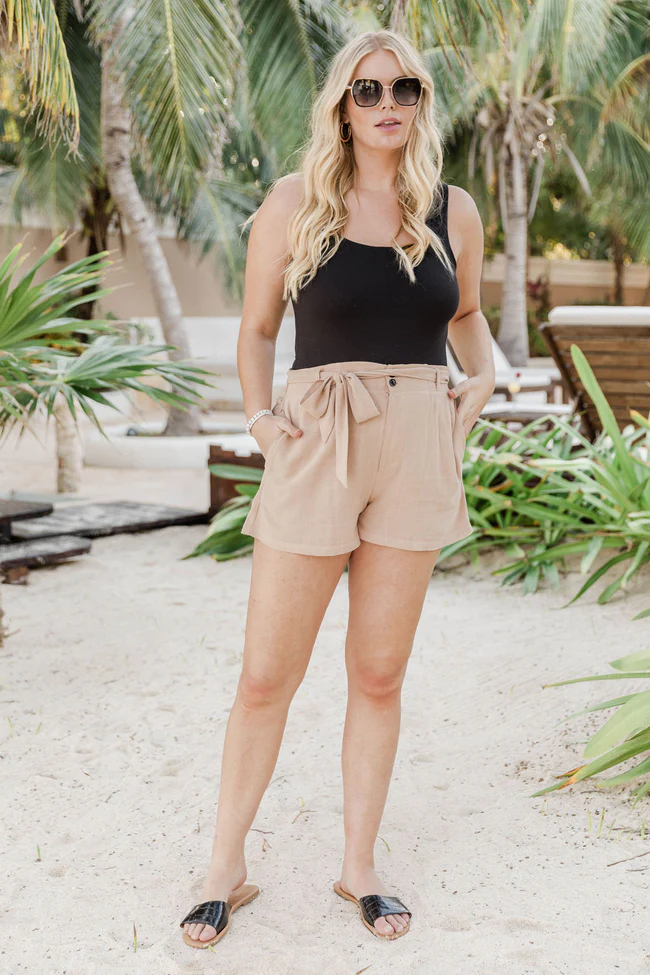 Finally, we have a super simple beach outfit combo: A one-piece bathing suit paired with breezy linen shorts and sandals.
Linen shorts are the perfect pairing for any swimsuit since they're lightweight and dry quickly. A neutral pair will look great with any color swimsuit, so if you invest in these, you'll get tons of wear out of them with every suit you own.
What do you think of our guide to how to style a swimsuit?
For more ideas on styling your swimwear, see our guide to 5 Extremely Cute Bikini Outfits You'll Wear All Summer Long.
Have you ever styled a swimsuit for non-beach/pool-related activities? If so, how did you do it? Which of these looks best fits your style?
Let me know in the comments!